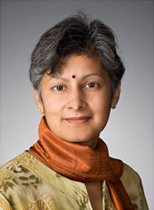 Dr. Pokala was raised in England and graduated from University College London Dental School in 1981 with a Bachelors in Dental Surgery degree with Honors. She and her husband emigrated to the U.S. in 1984 and she went on to receive her DDS from Columbia University in 1988. During her time at Columbia University she found that providing dental care for children was extremely rewarding and she pursued a career in pediatric dentistry.
After graduating from Columbia University she completed a fellowship at the Rose F. Kennedy Center at the Albert Einstein College of Medicine and then completed her residency in pediatric dentistry at Montefiore Medical Center. Dr. Pokala completed her board certification process in 1999 and is a Diplomate of the American Board of Pediatric Dentistry.
Drawn by the beautiful city and gorgeous weather Dr. Pokala moved to San Diego with her family in 1992. Dr. Pokala's husband, Sathya Pratap Pokala M.D., is a pulmonary and critical care physician based at Sharp Grossmont Hospital where he has practiced for over 20 years. They are blessed with three wonderful children.
Dr. Pokala has always had a passion for teaching and believes that it is important to educate and mentor the next generation of pediatric dentists. Therefore, it was only natural for her to help develop and start the first pediatric dental residency training program in San Diego at Rady Children's Hospital in 2003.
Throughout her career, Dr. Pokala has been involved in several leadership roles. She is a past president of the College of Diplomates of the American Board of Pediatric Dentistry, past Director of the Anderson Center for Dental Care at Rady Children's Hospital and current Treasurer of the San Diego County Dental Society.
Lastly, Dr. Pokala is dedicated to volunteering her services to those less fortunate and has traveled to Ensenada, Mexico, for several years to provide dental care to children born with cleft lip and palate.
In her spare time, Dr. Pokala enjoys reading, spending time with family and friends, loves gardening and discovering new recipes.
See Dr. Pokala's television interview about preschoolers and tooth decay. [aired on KPBS in San Diego]